One of of the fastest growing Bali villa rental websites is Villa-Bali.com, created by David Chambat.
In this interview, he reveals what Bali scams you should be aware of, how to pick the best villa for your loved ones and why booking a villa vetted by an agent like him is less risky that renting on Airbnb.
I had originally met David when I was building my beach retreat Bulung Daya and looking for agents to help me rent it out. He's the only Bali agent I met who believed in the potential for this villa (My villa is listed here with him: https://www.villa-bali.com/en/villa/tabanan/bulung-daya).
What are the top 3 things that visitors should consider before booking a villa in Bali?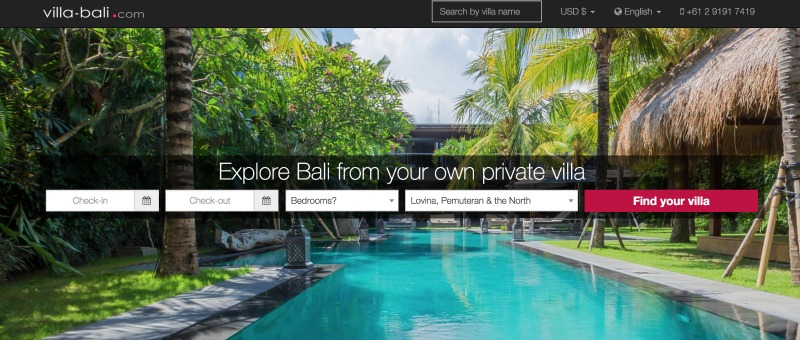 Location


What I love about

Bali is that it has something and somewhere for everyone. Each part of Bali has its own unique charm that caters to different types of tourists. Take Seminyak for example, known as the Saint-Tropez of Asia, it offers the biggest concentration of cool bars, world-class restaurants and trendy shops. While Ubud, Bali's cultural and artistic center, appeals to visitors looking for a more peaceful and soulful holiday – with great scenery and unlimited options for yoga, exploration and dining.  North Bali is a more tranquil, secluded area whilst the East is really for divers.
Hidden Costs
Many websites do not – on purpose – include taxes and other charges. So it is important to keep an eye for such details to avoid any unpleasant surprises when you get the bill. What we have done at

Villa-Bali.com

is to include all costs in our prices, but that's not the norm in Bali! Beware!

Reviews
While there is an increasing number of listing platforms for owners to index their villas, there is also an increase in scams and travellers ending up disappointed. Photos on random websites are often unreliable – they can be either poor in quality and undermining the property itself, or they can be very attractive due to excellent photoshop skills or simply taken long ago and a few hotels are now blocking the amazing ocean view… To figure out if the property matches your expectations or simply if it even exists, checking reviews is one of the best methods. Honest reviews based on past experiences will show you what is recommended and what should be avoided.
What is the biggest mistake that guests can make when booking a villa on their own?

With the overwhelming number of Bali villa rentals sites and the thousands of online listings, the stakes of coming across one of the villas that are not professionally managed are high. And we all know how bad it can get in countries like Indonesia where humidity works against the maintenance of these villas and staff/management are not always reliable. I would recommend to either go for a well reviewed villa or a professional rental agency that can guarantee the quality.
When it comes to renting a villa, in which areas of Bali do tourists get the most value for their money?

Bali, in general, offers a great value for money. On Villa-Bali.com, there are many villas below USD200 per night and the high-end villas really offer an amazing value for their price if you compare to prices in other destinations of Southeast Asia.
Looking at the different destinations in Bali, Seminyak is, of course, a bit more pricey (location, location, location). So, if you are really "value for money", I would go for one of the beachfront villas in the North. You can rent a 3-bedroom beachfront luxurious villa for approximately USD300 a night – I don't think any other destination in Asia offers such a villa.
Why book through travel consultants like you when people can just look up for a villa on Airbnb?

Our customer proposition is all about villa selection. Airbnb and other listing platforms allow any owner to list their properties with no proof of quality, ownership or even existence. While our portfolio only includes villas that we have personally inspected and selected.
Also, we are destination experts. For many, Bali is a first or second time travel oversea and our consultants are really helping customers choosing the right location and villa. Unlike a classic Barcelona Airbnb booking, where most customers know what they are booking, a Bali Airbnb booking is more of a challenge. Who knows what and where is Kerobokan? Most of the villa owners in Kerobokan (the outskirts of Seminyak further away from the beach and less appealing for tourists) will  market their villas as 'Seminyak villas'.  That's where an agency like ours creates genuine customer value.
Clients are also able to save the hassle of worrying about language barriers and negotiating with a number of owners as our travel consultants have got it covered. They are able to speak 7 different languages and will do all the hard work of convincing the owners !
Custom HeadlineWhat brought to create your company and your site Villa-Bali.com?

Four years ago, I was looking to buy a villa in Bali. Obviously I was looking for a good website/partner to market my upcoming villa. That was when I started searching for a website that offered a complete overview of the villas available in Bali. And I couldn't find any portal with great photos, online availability, guaranteed quality, etc.
Clearly, there was a gap in the villa holiday rental market in Bali. Most of the existing websites had small images, no translated content and poor technology infrastructure to offer any online booking. To address these issues, we created and launched Villa-Bali.com.
How can our readers know more about your Bali villas?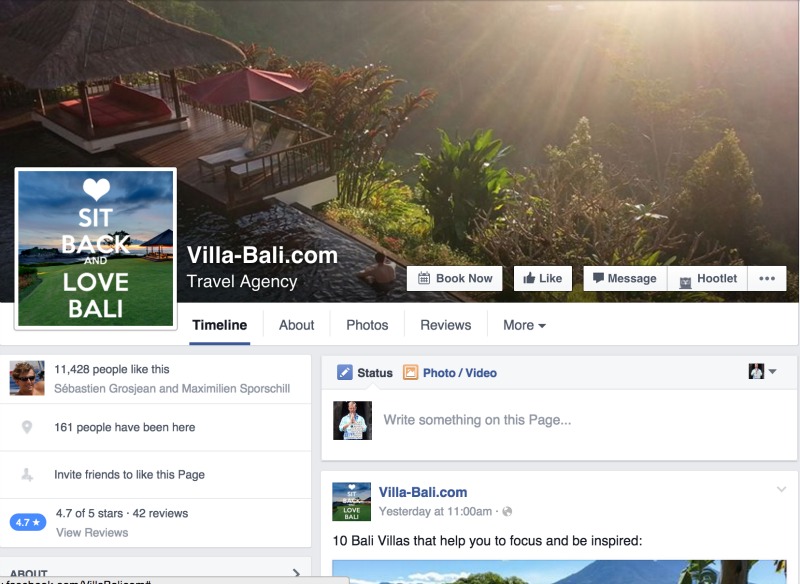 Follow our social media channels such as Facebook, Twitter, Blog and Instagram for the latest news and updates. We are constantly updating them to share with travellers everything we know about Bali such as the best cafes you have to visit, best brunch places, best villas to stay in during occasions like Valentine's Day and more. Readers can also subscribe to our newsletter for our monthly last minute discounts for villas. In addition to these, we have also come up with a family guide to make it easier for families that are travelling to Bali.
I hope that you found this interview with David Chambat interesting. Booking a villa in Bali can be stressful, as you do not want to disappoint your loved ones. Whether you are booking directly with an owner, looking at listing sites or working with a villa agent, always make sure that you are working with people that you can trust. Call them, email them, ask them questions.