Private Bali Beach Retreat up to 6 guests
reconnect with your loved ones and with yourslef
Discover an exclusive vacation hideaway between rice fields and beach
Live a memorable romantic experience in harmony with the real Bali
Get time for yourself in a stunning fully-staffed luxury villa
Unwind, contemplate and get new ideas for your life or your business
As featured in these luxury travel publications:

Video: What it feels like to be at Bulung Daya
Bulung Daya - Private Bali Beach Retreat
---
Bulung Daya is located away from the hectic pace and crowded streets of the modern Bali that you can see in Kuta. This unique beach retreat lets you live an unforgettable experience by the sea, in the middle of the Balinese countryside, with the people you love.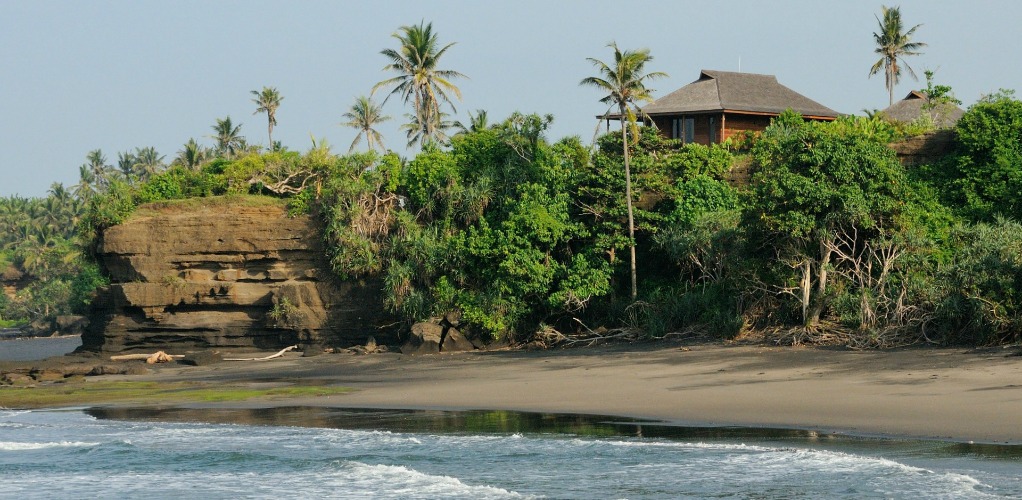 ---
Beach & Rice Paddies
---
Bulung Daya is located between a wild black sand beach and rolling rice paddies. Secluded location for maximum privacy. The only building on a beautiful beach. Unique location for unique people.
---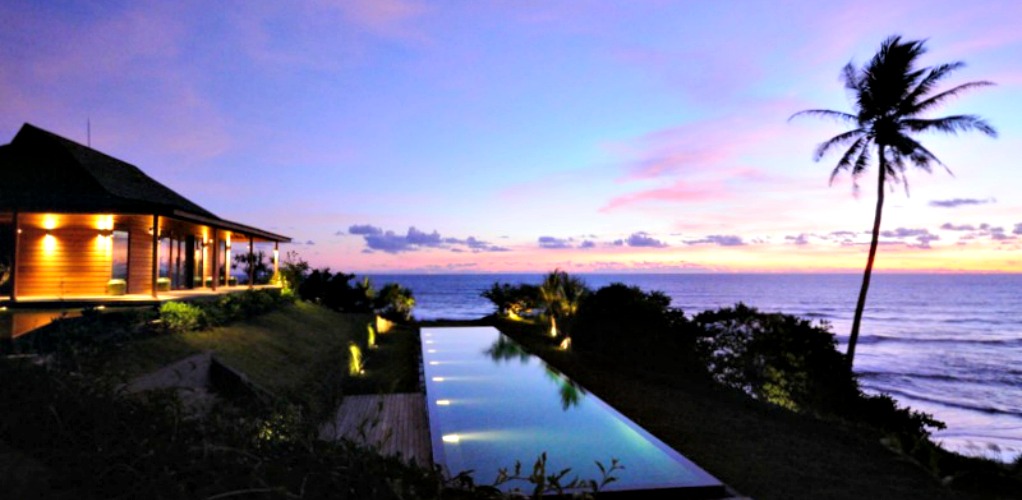 ---
stunning villa
---
The villa breathes understated luxury, with beautifully appointed rooms, attention to details and large glass doors that bring outside in. Contemporary Indonesian design meets international standards.
---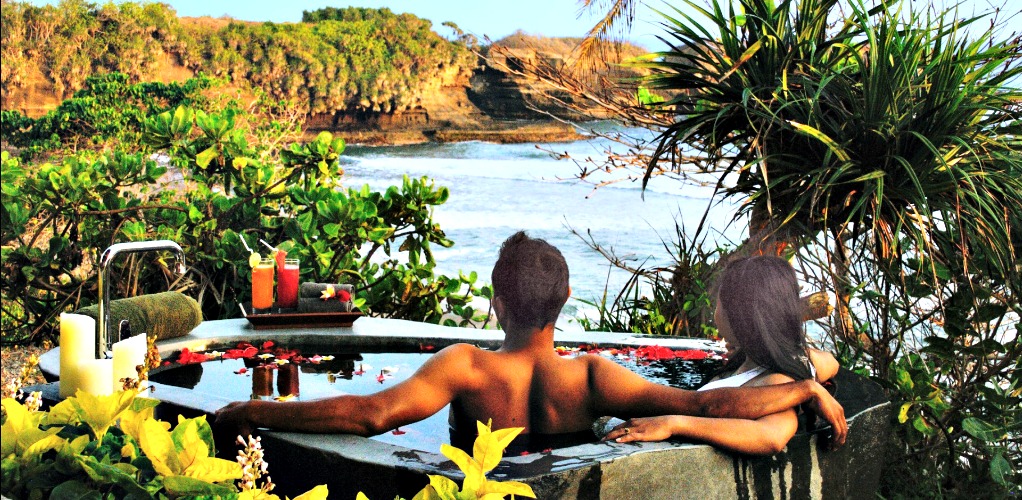 ---
High Class Services
---
Our team of 6 pampers you: The driver takes you anywhere you want, the private chef cooks scrumptious meals and the butler makes your stay stress free.
Guest Reviews for villa Bulung Daya
"It is a dangerous place :). You might fall in love with it so much that all planned activities, like visiting places around, going for a dinner to another place etc will be forgotten at the very minute you will arrive at the villa. "Laisvunas, Lithuania
"This is a very special place. Probably not for those of you who want to enjoy Bali nightlife or try a different restaurant each night, Bulung Daya is remote and unique, but only a 2 hour drive from the airport. The villa has been very carefully designed to make the most of its fabulous location perched on top of a promontory overlooking two deserted black sand beaches over which the two spacious and beautifully appointed double bedrooms look"Geoff, Hong Kong
"We arrived safely home yesterday afternoon and are already missing Bali – the sights, the weather, the culture, the food. Thank you for everything – for opening up your homes to us and showing us a great time and for being such a great host."Bill & Ann, USA
"We are still talking about our wonderful visit at your villa in Bali last month. It was the highlight of our Asian trip! Thank you for arranging such an extraordinary stay with you. Your property is paradise and we had a fabulous time. "John, USA
Lifelong Memories in an Enchanting Landscape
Imagine yourself waking up in 1 of the 2 bedrooms of the villa. From your bed, you notice that the tide is on the ebb. Along the shoreline, the black volcanic sand is shining like a mirror in the morning sun.
You slide open the glass doors. The sound of the waves crashing at the foot of the nearby cliff is like an invitation for you to walk barefoot on the deck.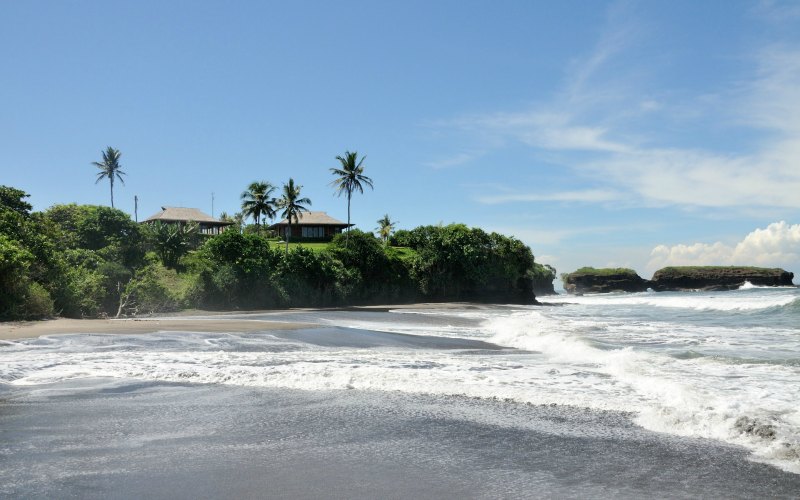 You turn slightly around the house and contemplate the rice paddies flowing down the hills like a grassy waterfall, just 20 feet away from you. In the background, little clouds cling to the summit of extinct volcano Mount Batukaru.
No other buildings around, just your holiday home. The maid, called Made, sees you, smiles at you, and asks you whether you are ready for breakfast. You go and get your spouse, who had settled down into the office to check his emails. Time also to wake up your teenagers who are sleeping in the second house. Will you all go for a stroll on the beach or among the rice paddies after breakfast? This will be a good discussion topic around the family table. Another great is starting at Bulung Daya.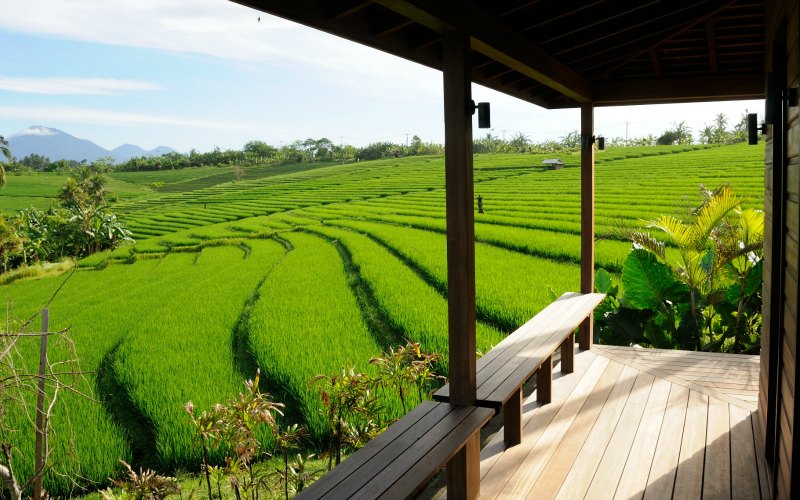 LUXURY HIDEAWAY VILLA WITH INDONESIAN TWIST
Bulung Daya has 2 main guest houses, along with several service and entertainment spaces.
The 2 main wood buildings stand on the same level. They were finished in December 2013. I used beautiful Indonesian wood types, black Bali lava stone, white Javanese stones and more modern building materials.
You can turn on the air conditioning in every room or let the big glass doors open to look at the beach and at the rice paddies. When everything is closed, the sound of the waves is very faint, which allows you to sleep peacefully.
1ST HOUSE: BEDROOM, BATH, HOME OFFICE
In the first house, you can find a large bedroom, a bathroom and a home office.
In the vast bedroom, a king size bed welcomes your most romantic nights. All the furniture has been made to measure in Bali: the bed headboard, the bed with its decorative mosquito net, the built-in bedroom cabinets, the lamps that give a charming glow to the room in the evening.
The en-suite home office is a very well-appointed room that you can use to think, write or work: a desk for your laptop, wi-fi, plugs, a sofa, a TV and an espresso machine. This home office has a view on the beach, to help kickstart your creativity.
The bathroom has 2 stone sinks set in a piece of furniture created by Warisan, the acclaimed Bali high end designer, a shower with a view on the sea, walk-in clothes cabinets, and a separate toilet area. The bathroom boasts a splendid view on the nearby cliff.
The Master Suite also offers a very romantic sport, with a Bali lava stone bathtub. Located outside, a few feet from the bathroom, it is also very private, as it out of the view of anyone else at the villa.
2ND HOUSE : BEDROOM, BATH, DINING AND LIVING ROOM
Between the 2 timber houses lies a decorative, shallow pond, set in black lava stone.
The second house holds the second bedroom, a bathroom and the dining / living room.
This second bedroom is a bit smaller, but it has a double view on the the beach and the rice fields. The furniture is also made to measure in Bali: the big contemporary bed with its romantic decorative mosquito net, the bed headboard which doubles on the other side a clothing cabinet for 2
The other side of the bed head board is a custom-made wall closet conveniently located between the bedroom and the bathroom. The latter boasts 2 spectacular Bali stone sinks, a big shower for 2 overlooking the rice paddies and a separate toilet area.
The living and dining room is a very welcoming place: a huge table for meals, a lounge area and a stunning bookshelf that we imagined and got built locally. The table and the chairs are by Reynaldo Zapp, a Brazilian designer living in Bali.
The living room is great to have meals with your family or with friends that you have invited for lunch, to have coffee or cocktails in the comfortably large sofas or to discuss your travel plans with the villa manager. Wi-fi is available here, just like in every other room of the villa.
33 METRES LONG INFINITY POOL OVERLOOKING THE SEA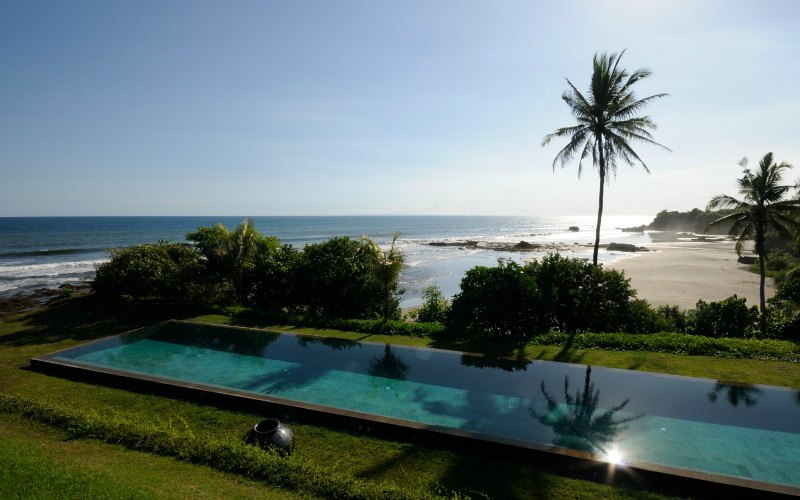 Below the 2 houses, at first hidden by the gentle slope leading to the beach, lies the 33 metres long pool. Yes, it is a bit crazy to have a pool that is longer than those in most Bali hotels. However, as the sea in Bali can be quite dangerous, it is quite rational to swim in a welcoming pool. The most avid swimmers in the house may want to race other other, while the others are sipping a cocktail on the 6 chaises longues.
The pool is also very romantic at sunset: You can sit on the sunken bench to watch the clouds change colours, from white to orange.
POOL HOUSE : GYM, MASSAGE, BATH, CINEMA, REST BED
The pool house is located on the same level as the pool, under the second house. You can find there a gym, a massage table, a home theater, a rest bed and a bathroom.
The pool house is very convenient when you decide to stay home and enjoy the villa. Imagine that two of you are soaking up in the sun by the pool, while you are working out in the gym and while your husband is "thinking" with his eyes closed in the large sofa. A holiday together, where everyone has time for themselves!
You can practice yoga and low-impact moves on the shock-absorbing floor of the gym. There is also 1 full-body workout exercise machine, 2 cardio-training machines, and 1 massage table. The villa manager can get you a masseur or a masseuse very easily.
The rest bed is in a separate room where you can cool down a bit after the gym or a swim. It has a sofa-bed, a table, a mini-fridge and fresh beverages left for you by the staff. In the nearby bathroom, there is everything you need to get changed on the spot (shower, sink, toilet).
The house also has a movie room,  with a silver screen, a projector, comfy sofas and about 200 DVDs.
A short, 15 metres long, path on a gentle slope leads you right to the black sand beach. There, you will most certainly be alone, but for local children who come to play here in the late afternoon. Wander around the beach, discover the lovely small temple of the royal Kerambitan family, nestled near a cliff. Walk here and there, see Balinese cows grazing under the coconut trees, between beach and rice fields. This is the Bali we are all dreaming about!
FALL IN LOVE AGAIN WHILE WATCHING ROMANTIC BALI SUNSETS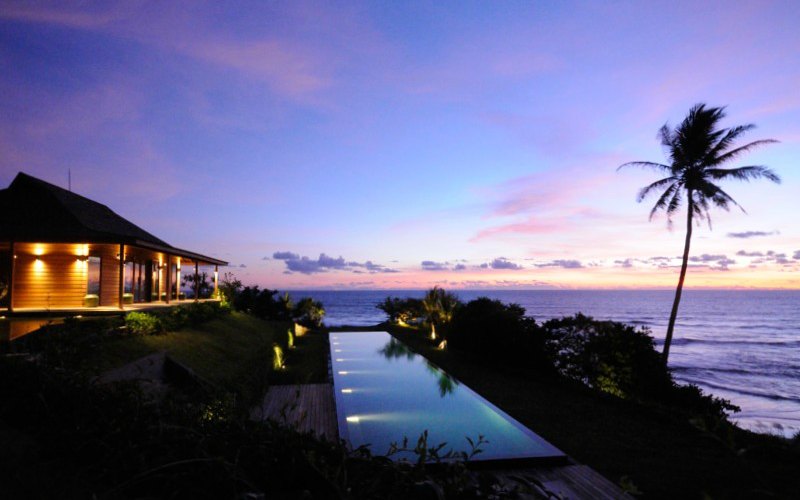 Villa Features & Services
Location: Wild Beach near the village of Antap, in West Bali
On the Bali map below, the big red dot indicated the location of Bulung Daya. As you can see, it is relatively far from the urbanised areas of Kuta – Seminyak (about 45 kilometres – 27 miles), yet very accessible as it is only 5 kilometres away from the main Bali road (in yellow on the map). The travel time from Denpasar is around 1.5 hour.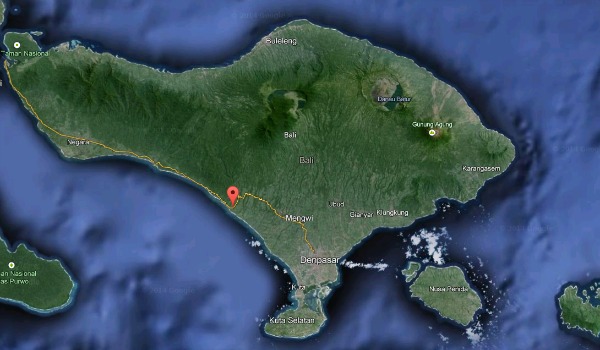 ---
Villa Rates
Enjoy your Bali beach retreat the way you want it!
My team and I have been welcoming guests for a couple of years now, and we realize that every stay is different: Some people want a maximum of services included in the price, others want things à la carte. So, we've created 3 packages to match your needs. Of course, once at the villa, you can still order more meals, more massages and more chauffeured cars, for instance.
Pick the package you want and we can tailor it even further for your needs.
Basic Package
Lowest Price Guarantee - Book Direct with the Owner and Pay Lower than with Airbnb, Vrbo, Booking.com or any villa rental agency.
DOES NOT INCLUDE OUR DRIVER OR CAR. PLEASE ONLY CHOOSE THIS OPTION IF YOU HAVE YOUR OWN CAR.
Price for 1 night with 2 bedrooms, for up to 4 guests
Minimum stay: 3 nights
Breakfast included. Lunch and dinner are available as extras.
Local Tax and Staff Service Charge Included
Please be aware that meals (breakfast, lunch and dinner) can only be ordered to and cooked by our chef (Extensive menu card). No self-catering.
Additional guest: $75 per night per person, up to 6 guests in total.
LOW SEASON 2022 & 2023
$480/NIGHT (2 GUESTS) $510/NIGHT (4 GUESTS)
SUMMER 2022 & 2023
$565/night (2 GUESTS) $595/NIGHT (4 GUESTS)
CHRISTMAS 2022 & 2023
(Not Available At This Package Level)
N/A
Breakfast + CAR + HALF-BOARD
Relax, focus on creating Bali memories with friends and family. Our team is here for you to help you plan your activities, serve you breakfast and dinner (or lunch), drive you around the island, and take care of you all day long at the villa. 
Half-Board includes: One 3-Course Meal per Person per Day (Breakfast + 1 other meal per day)
Package includes: Airport Transfers, a Chauffeured Car Everyday, Your Personal Butler 12 hours a day, Daily American or Asian Breakfast, 2 Pieces of Laundry per person and per day, All Non-Alcoholic Beverages for Free, Free Day-Trip Planning, Free Balinese Cooking Lessons.
Local tax and service fee included.
Minimum Stay: 4 nights, for up to 4 people (Except for Christmas time: 7-night minimum)
Additional guest: $75 per night per person, up to 6 guests in total.
LOW SEASON 2022 & 2023
$590/NIGHT (2 GUESTS) $620/NIGHT (4 GUESTS)
SUMMER 2022 & 2023
$690/NIGHT (2 GUESTS) $720/NIGHT (4 GUESTS)
CHRISTMAS 2021 & 2022
$690/NIGHT (2 GUESTS) $720/NIGHT (4 GUESTS)
Start Your Bali Dream TODAY
Step 1. Check the Availability Calendar
Step 2. Send Your Booking Enquiry
Step 3. We Get Back To You Under 12 Hours
Frequently Asked Questions