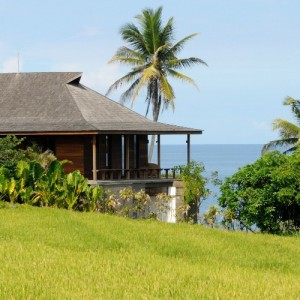 Australian TV watchers can learn a lot from reality-TV shows like "What happens in Bali" and "Bogan Hunters". Yes, Bali can be hectic and dangerous. From methanol poisoning to unsafe sex, from street mugging to drug taking, real Bali dangers do exist as depicted on Aussie TV.
But these dangers are mainly concentrated in South Bali, in the Kuta – Seminyak area. This area is where traffic jams are the worst and mass tourism is ever rising. Bali received 3.27 million foreign tourists in 2013, among which 25% were from Australia. Even if Bali bogans are a minority among Australian travellers, there are still a lot of them.
So, should upscale travellers avoid Bali altogether? Not so, says Thibault Masson, owner of Bulung Daya, an exclusive Bali beach retreat. "Europeans travellers have already discovered the charms of West Bali, especially in the Tabanan district. It is much less crowded, still has some pristine beaches, stunning rice paddies, and friendly locals. It is much more relaxing for tourists looking forward to enjoying a peaceful holiday".
While 80% of tourists pile up in less than 20% of the surface of the island of Bali, the tranquil Tabanan district is only a short 1-hour drive away from Kuta – Seminyak. The district boasts a mix of black sand beaches, crater lakes and attractions such as the Jatiluwih rice paddies (a UNESCO World Heritage site). This is of no interest to bogans, but is very attractive to sophisticated tourists, especially as a few high-end Bail villa rentals and boutique hotels have recently opened up in the area.
Mr. Masson says that tourists who might have been detracted from Bali because of what they have seen on TV should reconsider their position. These shows underline the existing problems of the Kuta – Seminyak area, but are not representative of the slices of paradise that still exist in other parts of Bali. He adds: "Do your homework, look beyond the usual places. Even Ubud is suffering from heavy car traffic. Time for discerning travellers to discover West Bali".