How about turning my secluded villa Bulung Daya into your own private stunning fitness retreat? Imagine yourself making your body stronger, while connecting your mind with the real Bali. I spent 3 days putting together and trying out for myself this Bali health retreat option that I'd like to offer to my guests.
Here is how to create a tailor-made program that fits your own fitness needs. If you are pressed for time, just watch the video. Below it, you will get the details on the retreat. Just so you know, most of the equipment is there at the villa. The real option is getting my coach to come over and stay with you for a few days at the villa for a luxury boot camp at Bulung Daya 😉
Your own Bali health, fitness and wellness retreat at villa Bulung Daya
As you may know, my villa Bulung Daya is located in Bali, on a secluded beach, far from the busy areas of Seminyak and Kuta (about a 1.5-hour drive). It is a wonderful beach retreat for up to 6 guests, with its 33 metres long pool, its own gym, a big movie room, a private chef, a driver, a butler and more staff.
By itself, it is already a unique, relaxing place, where you can walk on the black sand beach that is lying just at the foot of the villa, you can stroll on the rolling rice fields that border the house or use our 2 mountain bikes to visit the surrounding area of Antap.
Yet, some of the past guests who has rented Bulung Daya from me wanted to experience a different kind of retreat, a mix of hard core boot camp, with some yoga, healthy food, stretching, running on the beach, exploring the real Bali, etc.
This kind of demand actually solved the issue I had in the past with providing sports coaches on demand at the villa. Until this year, I had found it difficult to cater to their needs: It was hard to have a personal trainer or a yoga teacher drive all the way to Bulung Daya for just a 1-hour session at the villa. It was time-consuming for the trainer and  more expensive for the guests who had to pay extra to make up for the distance.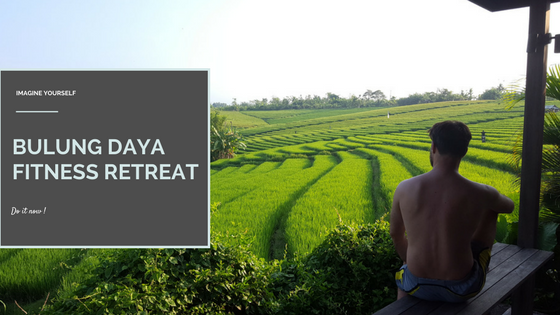 Enter the idea of a Bali health retreat à la Bulung Daya. How about changing the rules and having the trainer stay at the villa? The coach could then be available for several sessions during the day, for instance over 3 days, which turned the whole thing into a retreat.
Ideally, the guests would sleep in the 2 bigger bedrooms, while the trainer would comfortably sleep in the pool house. This is exactly what I tried out this February: My buddy Baron was staying in 1 bedroom, while I was staying in the other. Our coach,Aldhy, was staying downstairs by the pool.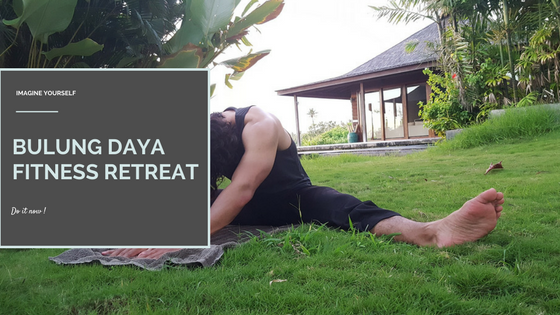 Here is what you already get when renting our villa Bulung Daya, as is, without requesting a trainer
A luxurious beach villa with 3 bedrooms (For up to 6 guests, but our standard price is for 4 guests)
Living Room, Movie Room
Staff: Private chef, driver, butler, gardener
Breakfast, lunch, dinner available (Our chef can cook Western, Asian, vegetarian and gluten-free food – Just let him know about your needs)
Fully equipped gym (free weights, treadmill, bike, yoga mats, various sports items)
33 metres long pool
2 mountain bikes
Direct access to the black sand beach (Feels almost private, as no other building stands there and only locals come over)
Massages available (supplement)
Price: If you do not need a trainer and you want to exercise on your own, you just pay regular the regular price for the house, starting at $430 per night for 4 people (with lots of services included, read on our page about renting villa Bulung Daya)
Visit the official Bulung Daya page to check out rates and availability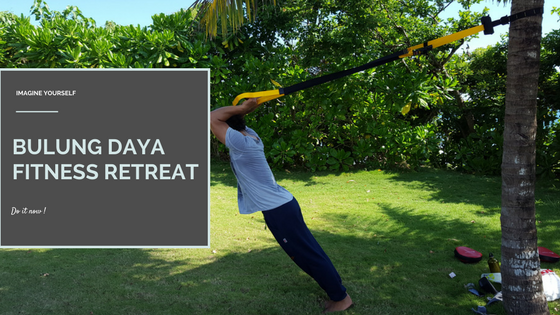 What you get on top of this, if you choose a health & fitness retreat program
Our trainer can create a tailor-made health and fitness program for you, combining core exercises, yoga, bootcamp like sets, relaxing strolls in the rice fields, aqua gym, boxing, cardio exercises, and much more.
Our trainer can come to the villa with more equipment such as TR-X, boxing gloves, a tire, hammer, ropes, etc. (Sounds crazy? Have a look at the photos and video)
If you need a trainer, it makes sense to at least book him/her for 3 days, 2 nights with several sessions (e.g. 1 fitness, 1 yoga) during the day. As Bulung Daya is an exclusive, secluded property located 1.5 hour from Seminyak, the heart of urban Bali, it would not be great for the trainer to drive 3 hours back and forth just a 1-hour session. Better to have him/her over and on demand at the villa. If you pick my buddy Aldhy as a trainer, you will see that he's fun and a great English speaker. He obviously knows when to be discrete too, just like the rest of my staff.
You can also have your own coach come with you at the villa (or be a coach with your own clients). Just contact me to arrange your stay.
If you are with a coach, here's my advice on how to set up bedrooms: Leave 1 bedroom for the coach, then you have the 2 main bedrooms left (Both have very large double beds, so are good for couples or for friends ). So, your party is maximum 4 people.
Price: As the program would be tailor-made, pricing changes with your demand. For the intense program I did in the video, with 4 sessions a day (bootcamp on the beach, core exercises, arms and shoulders and then active yoga), the trainer was about US$120 per day. Note that you will also have to pay for your coach's meals.
If you want to know more about my villa Bulung Daya, to know about its rates and availability, then go to its official page: RealBali.com/bulungdaya.
You can also contact me directly to get your Bali health retreat dream started.
Go to the contact page now to design with me your health and fitness retreat program