I'd like one of my readers to become the new owner of my lovely family villa, Adagian. Located in Umalas, close to all the Seminyak / Kerobokan action, Adagian is a fine 3-bedroom villa, with 2 buildings standing on each side of nice swimming pool.
Why am I selling a villa that I've owned and loved for the last 5 years? Because I find myself traveling a lot, between Bali, Europe and the Caribbean. Here, in Bali, I also own another villa, the fabulous beach retreat called Bulung Daya. Last month, I spent 10 days in Bali, with 5 days in one villa and the 5 remaining days in the other. 2 villas is a bit too much for just 10 days. I need to focus on just 1, so it is a bit of a heartbreak to have to choose between either.
You will find below a short video where I share with you the news of my selling Adagian, shot right by the pool of the villa. A good idea to see what it is like. Make sure to turn the sound on, to hear the sound of birds. Feeling so steeped into nature, while being less than a 10-minute scooter ride away from hip bars and restaurants like Sardine, LivingStone, Métis, Merah Putih and many more, this is truly incredible.
More about my villa Adagian, located in Umalas, Bali
This family-friendly house:
– is divided between a Joglo and a Gladak, 2 vintage traditional wooden constructions imported from Java and rebuilt in Bali
– has 3 bedrooms (2 in the Jolglo, 1 in the Gladak) and 3 bathrooms
– has a 12-metre long swimming pool
– is fully furnished
– offers a large living space open on the garden and the pool, comprising a living room, a dining area and a kitchen
– has space for the staff to stay during the day and a night
– has a parking space for 1 car
– has its building permit (IMB) and leasehold contract running until 2049 (Leasehold means that you do no own the land, but the right of use).
Asking price: US$199,999
You will find below a few recent photos of the house, as as map highlighting its great location.
Contact me now to start talking about how you will be the next one to host your friends and family at the lovely Adagian.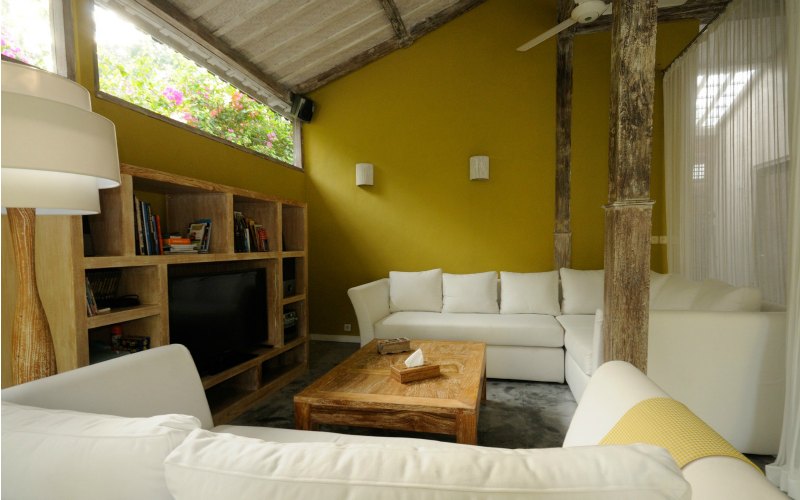 P.S.: If you want to know more about Umalas, Bali, feel free to read my article Top 10 things to do in Umalas.