Top 10 Things To Do in Umalas, Bali, Indonesia
My Villa Adagian in Bali is located in the peaceful Umalas area, in the middle of trendy Seminyak – Kerobokan- Canggu triangle. Thanks its location, it is under a 10-minute scooter ride of plenty of great places where to have fun at night, to shop for fashion and antiques, spend some time on the beach, relax in a top level spa or have great meals. These are just simple things, but among the best things to do in Bali.
Even if you do not end staying with us, this short list of the top 10 things to do in Umalas will give you a taste of our sense of hospitality.
Umalas is a great location to spend time in Bali, as you can hit the best places in  Seminyak, surf in Canggu and explore the rest of the island, without feeling trapped like in Kuta. So, this list of activities to do in Umalas relies on places located in Umalas 1 and Umalas 2, south Canggu, north Seminyak and north Kerobokan. All within a 10-minute scooter ride, guaranteed!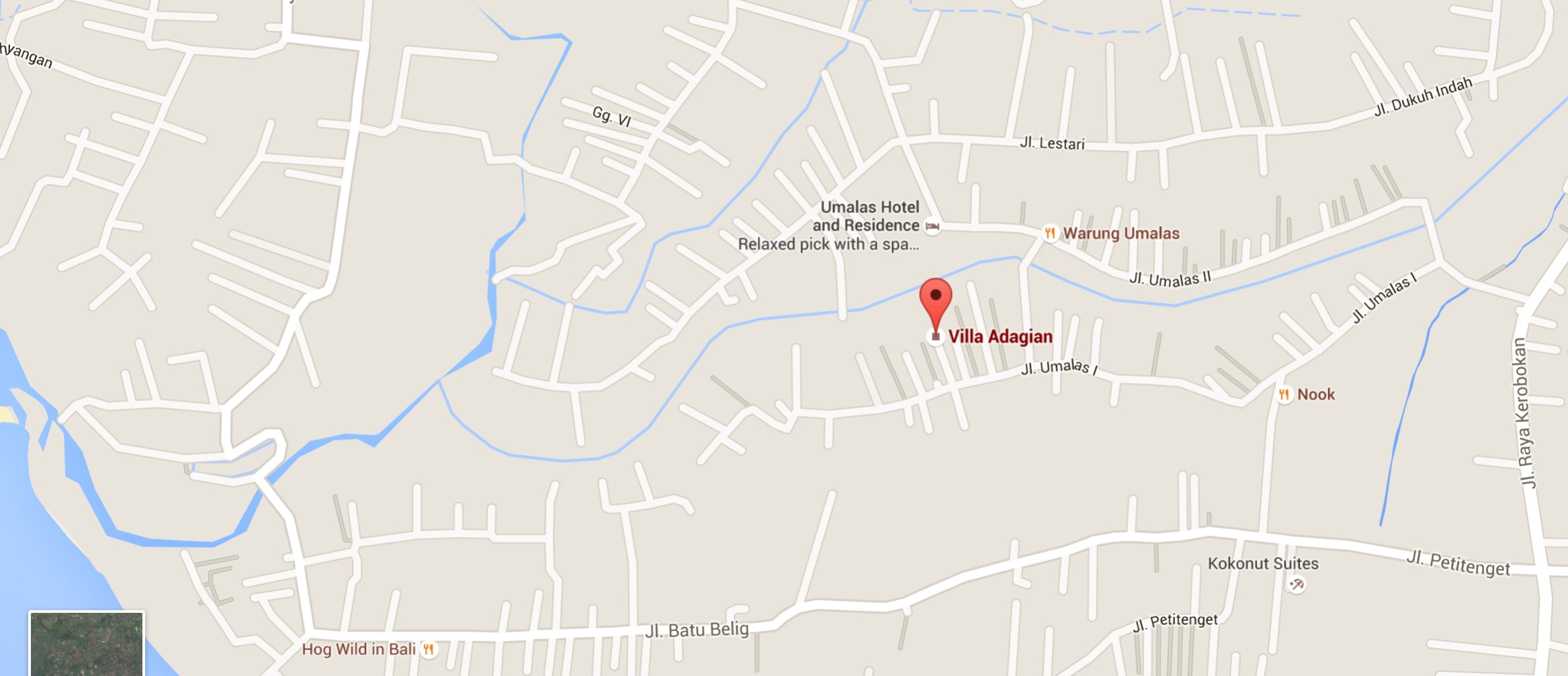 1. Things to do in Umalas: Nook (Restaurant)

In our street, Jalan Umalas 1, right in the rice fields. Very friendly, vast menu of Indonesian and Western cuisine, from morning coffee to dinner. I go there whenever I am too lazy to cook and must stay near the villa. Also simple and fast when I have to have a business lunch near my Umalas villa.
Nook has been gradually expanding and has become really popular among tourists, expats and hip Indonesians. As a result, it is very difficult to park a car a there. Come by scooter or just walk if you are staying at my nearby villa Adagian.
If you like places like Nook, you may want to check out my list of 11 Instagram-worthy Bali restaurants.
2. Things to do in Umalas: Monsieur Spoon (French Bakery and Pastry Shop)

Fresh croissants, within walking distance from my own holiday home? Yes! Actually, I am more into their really yummy pastries. The French artisan pâtissier is my new local hero!  The Umalas 2 outlet is smaller than their bigger one in Canggu, but you can order cakes from the other place if you want to.
Monsieur Spoon is a wonderful addition to the things to do in Umalas. You can have tea there or take away your croissants, macarons and éclairs.
3. Things to do in Umalas: Sardine (Restaurant)

So close to my holiday home, this French-Asian fusion restaurant is amazingly romantic. It is really not what you expect from the road: A restaurant nestled in a bamboo structure, with an endless view on rice paddies. A lot less expensive that they could charge (don't tell them).
Sardine is really great at serving fish, but it is also a wonderful place where to have a cocktail at sunset. Make sure to call and book a table, the place gets filled up pretty fast.
4. Things to do in Umalas: Sundari (Spa)

A high-end spa, Sundari Day Spa is less than 5 minutes away on a scooter from Villa Adagian. I go there when getting a simple massage at home won't make it. The place is beautiful decorated (sleek modern design with traditional materials), not very expensive, the masseuses are well-trained. Usually, I fall asleep in the middle of the massage and feel perfect the day after.
For more massage options, read my blog post about unconventional Bali massages for couples and my article about gay-friendly Bali.
5. Things to do in Umalas: Mozaic Beach Club (Restaurant)

Located down the Batubelig beach road, this restaurant is where I go on very, very special occasions. It is glamorous and your credit card will remind you of that.
Amazing food in the beautiful restaurant, great place to hang out with a drink around the pool. This is a sister restaurant to the one in Ubud. Book your table in advance and make sure that your credit card can afford the trip!
Now, you can also opt to go there just for sunset and hang out by the pool. It is not as popular as Potato Head, but this is still pretty cool!
6. Things to do in Umalas: Bungalow Living (Decoration and Restaurant)

Bungalow Living is located in Canggu, on the side that is the closest to Umalas. Bungalow is 2 things, in 2 buildings on both side of a road:
A nice restaurant for people who want to eat fresh and organic good things. I like going there in the afternoon, for tea with a nice piece of cake. Their juices are nice too.
A deco store, with colorful, playful objects handmade in Bali, as well as beautiful fabrics from all over Indonesia. I have bought several items there to decorate Adagian, my Umalas villa.
7. Things to do in Umalas: Merah Putih (Contemporary Indonesian Restaurant)

Think you know Indonesian cuisine? Tired of your usual Nasi Goreng and Gado-Gado? The brand new restaurant Merah Putih offers contemporary Indonesian cuisine, in a very modern décor. My advice: If you are a man, wear a shirt and some trousers, as this is a rather posh (but nice) place and as the air conditioning is pretty strong.
Trying this kind of unique restaurant is among the top things to do in Bali. If you are looking for other stunning experiences, you can check out my list of 15 luxury travel experiences in Bali.
8. Things to do in Umalas: Petitenget (Beach)

There are 2 beaches closer to Villa Adagian: Batubelig beach and Berewa beach. Both are nice and quite.
However, I really like going to Petitenget when I feel like partying in Seminyak. At sunset, Petitenget is party central, but way more stylish than Kuta and lively than Legian. If you want to buy me a cocktail, let's meet at the W Retreat & Spa, at Ku De Ta or at the Potato Head Beach Club. It's a cool way to enjoy the best Bali resorts, while staying in your own vacation home in peaceful Umalas.
9. Things to do in Umalas: Homemate (Tea / Decoration)

Homemate is the place where I go to purchase wonderful food products and decoration items made in Indonesia.
For instance, if I want to make a welcome basket for my guests, I am sure to find there delicious fruit jams from Bali. I have also bought there wonderful scarves for my friends back home.
10. Things to do in Umalas: Lemari (Antiques)

If you are looking for old exceptional furniture, either Dutch colonial, Balinese or Indonesian, you have to visit this store. There are a lot of vintage items, not just furniture.
My tip: ask to see the back of the shop, this is where the biggest antiques are stored. If you like the "real Bali", you may also want to check the natural side of the island, with these 7 stunning places in West Bali.
Top things to do in Umalas
And now, more things to do in Bali, all around the island

If you like this list of things to do in Umalas, you will probably like my other trip ideas and suggestions to explore the "real Bali":