Bali has garnered something of a reputation as the gay capital of Indonesia as a whole, boasting a welcoming vibe and LGBT-friendly atmosphere, especially between the lively bars of Seminyak, the party streets and sands of Kuta, and the artsy retreats of Ubud. That said, no matter where you decide to stay on the island, you can rest assured there are oodles of options when it comes to securing that gay-friendly villa complete with all the luxuries, bells and whistles. Just check out this list of tips for the prospective gay traveller to Southeast Asia's so-called Island of Love.
1. Know that Bali welcomes gays – and know why!
There are plenty of reasons why Bali is hailed as one of the LGBT meccas of Southeast Asia, and they're not just to do with Seminyak's lively drag bars and the sheer wealth of gay-friendly luxury villas on the island. No sir, there's also the small matter of Bali's unique Hindu culture, which has proved hugely welcoming to the gay lifestyle over the years. In contrast to the more hard-line beliefs of Indonesia's Muslims across the water in Java, Lombok and elsewhere, Bali's famously laid-back local Hindus evoke the teachings of the Kama Sutra and other Vedic texts in their acceptance of other sexual orientations.
This all makes for one uber-gay-friendly vibe that's brought oodles of LGBT holidaymakers, Bali digital nomads and ex-pats to the island over the decades, not to mention the likes of Rudolf Bonnet, Donald Friend and Walter Spies – all gay artists who are now credited with imbuing Ubud with its bohemian, stylish edge!
2. Use online gay guides for the best tips
As Bali continues to boom in the world of LGBT tourism, more and more guides are becoming available for men and women interested in experimenting with this side of the island. The Gay Passport's Bali destination guide has detailed advice for gay travelers and reviews the hottest bars, clubs, events and hotels on the island. The online community is also a great way to meet other like minded gay travelers. Explore Gay Bali with The Gay Passport. There are also more Bali-specific guides, like BaliGay, which specialises in everything from bespoke gay honeymoon packages to sightseeing tours, and Bali Friendly, which has a great variety of gay-only hotels, spas, tour packages and more. Of course, it goes without saying that our Adagian and Bulung Daya villas are also gay-friendly, and it's possible to book these directly without the help of online travel agents or portals.
3. Know the difference between gay-friendly and clothing-optional villas
Choosing the right villa for your holiday in Bali is really important for any couple eager to experience the romantic and sensual side to this beautiful isle. That's why it's important to know the difference between the two main types of LGBT-open rentals currently on offer here: gay-friendly and clothing-optional. The first is essentially a villa like any other, only the owners are known for their acceptance of gay lifestyles and LGBT folk; welcoming gay couples or singles just as they would any other client.
These are by far the most common option for gay travelers in Bali, and our Adagian and Bulung Daya villas fit the bill nicely. Clothing-optional, gay-only villas like Bali Au Naturel and Sunclad Villa offer a more immersive and intimate experience, are often owned and managed by gay people and aim to construct an experimental and free environment for gay travelers between the palms of Seminyak or the rice paddies of Ubud.
4. If in doubt, ask!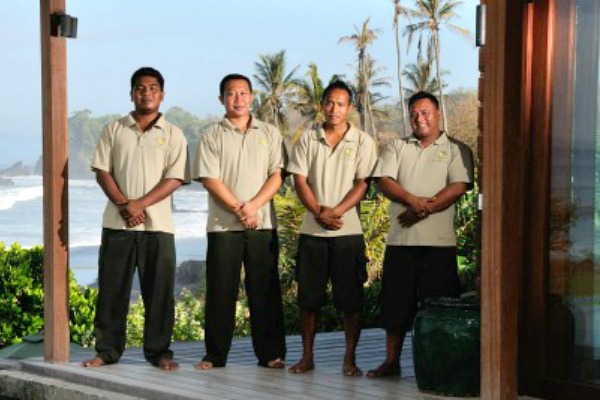 Given the welcoming and tolerant nature of the Balinese people, it's almost always okay for prospective guests to simply ask outright if a particular villa or accommodation choice is gay-friendly. And while the answer will almost always be 'yes' – as most renters here are accepting to the hilt! – communicating these personal queries and concerns before arrival can help prepare villa staff for your particular needs and desires. That means no awkward questions about the whereabouts of your wife or husband, no accidentally booked places for the unseen other half on that tour to the Goa Gajah, and all the right gender equipment acquired for the trekking trips to Mount Batur!
5. Decide whether you want to party or not
While still on the up and relatively small, Bali does boast its own gay nightlife scene. Centred on the thumping clubs and bars of Jalan Camplung Tanduk Arcade, LGBT folk here flit between the dancefloors of Mixwell, Bali Joe, Bottoms Up and Facebar, all of which host regular drag shows, go go dancers and more.
If that sounds like your kind of thing, then you'll have to book a villa close to the city (our own Adagian would be the perfect choice – set between the waxy palm forests of Umalas just 15 minutes from the strip). If you're more inclined to just kick back, relax and leave the partying for a while, then feel free to opt for any gay-friendly villa, from our clifftop Bulung Daya on the rugged edge of Tabanan Regency to the wealth of Balinese cottages around the artsy hub of Ubud in the heart of the island.
6. Think about whether you want to hit the gym while on holiday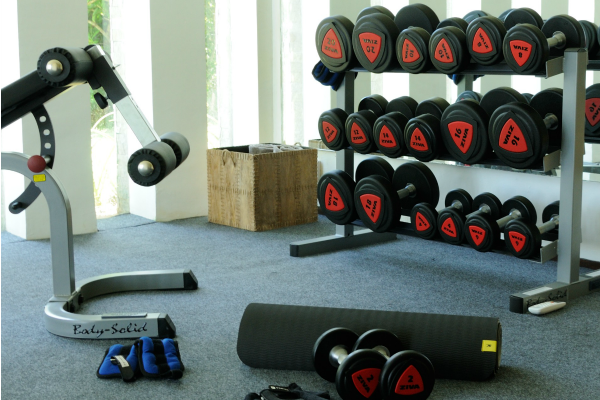 If you're eager to hone your muscles and tone up ready for those surf trips to Kuta and beach days spent sunbathing on the sands of the gorgeous Bukit Peninsula, then be sure to check ahead and see if your prospective villa has an on-site gym. If not, then there's always the option of going for a villa with a gay-friendly gym nearby.
For example, our Adagian villa is just 18 minutes down the famous sunset road that connects Kuta and Seminyak to the Celebrity Fitness on Lippo Plaza; a famous LGBT-welcoming chain of fitness centres that made its name in Jakarta. As for our beach retreat Bulung Daya, it boasts its very own private gym, with cardio and body-building equipment, as well as a massage table and a 33 metres long swimming pool.
Another option is to hire a personal trainer and have them head over to your rental – just be sure there's enough space on offer for a full workout.
7. Think about whether you'll be wanting a massage
After hitting the treadmills or pumping some iron, the mystical land of Bali has one truly welcoming treat to help travellers unwind: massage. Treatments range from acupressure to aromatherapy to stone massages and there are oodles of gay-friendly parlours across the island. Kuta and Seminyak are packed full of suitable places to go, like M Spa @ Paul's Place – with its extensive menu of Western and Far Eastern services – and Prana Spa, with its enthralling Rajasthani influences.
And if you're far from the towns of the south coast, then don't fret: Bali is also known for its call-out massage services, which are available from private practitioners right across the island. (Or you could just get your partner to learn how to do it, with an introductory course in Balinese massage from Jari Menari in Nusa Dua!)
Do you have any tips for people searching for Bali's top gay villas and LGBT experiences? If so, we'd love to hear them – just leave a comment in the thread below!