What is it like to visit Bali as a gay couple? How gay-friendly is the island? Where to go, what to see?
Gay guests staying at my beach retreat Bulung Daya or at my family villa Adagian often anxiously ask me these questions. So, I turned some of the best experts in the world on this topic: Stefan and Sébastien, a.k.a. the Nomadic Boys.
For the last two years, they've been traveling the planet, sharing their trip findings, quirky photos, and romantic adventures.
I chose to contact them as I had been impressed with their "Ultimate LGBT travel guide to Bali". They are witty, handsome and internet-savvy, so enjoy their Bali travel tips!
Stefan and Sébastien, on your site NomadicBoys.com, you introduce yourselves as a "gay couple travelling the world with one mission: To seek out and showcase unique romantic, culinary and outdoor adventures to inspire you to travel to places beyond the pink comfort zone." Did you find that Bali was out of this "pink comfort zone"?
Bali is a safe heaven for gays in a country where it's difficult to be openly gay, especially around Seminykak. It has a huge international tourism scene, which coupled with the more relaxed Hindu attitude of the island has created a pink oasis. In this regard, it's well within the pink comfort zone and one of the main gay destinations of Asia.
Your ultimate LGBT travel guide to Bali lists wonderful Bali gay bars, restaurants, spas and outdoor experiences in Bali, from Seminyak to Ubud, as well as in Kuta and Nusa Dua. How much time did you spend researching for these places and how did you pick them?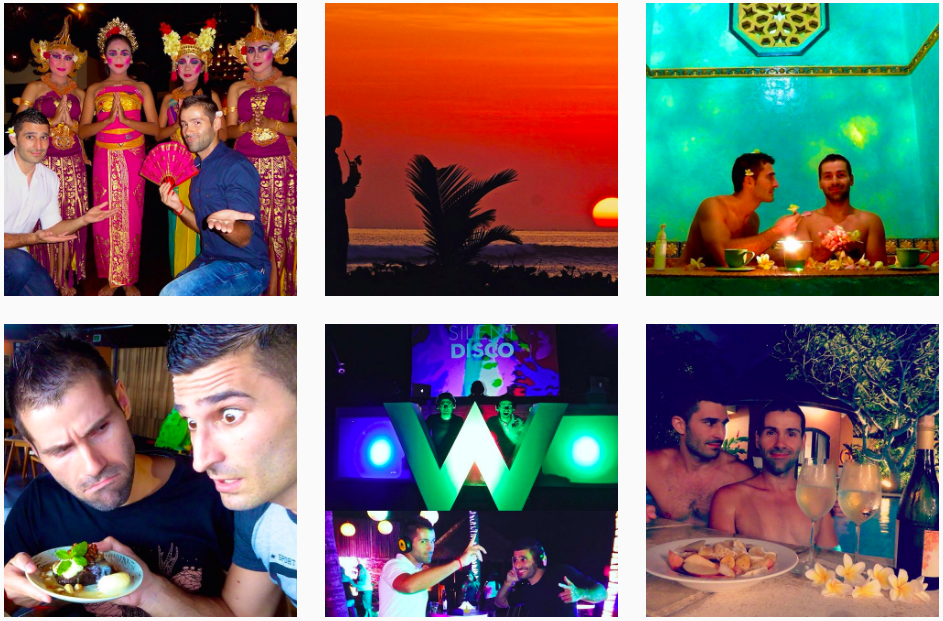 The gay bars of Seminyak are located next to each other on one main road. There's around 4/5 of them and you can quickly find them through from a Google search, which is what we did.
Would you say that it is easier for a gay couple to stay at an international hotel than in private villa? What should travelers do to be sure that the place is really gay-friendly?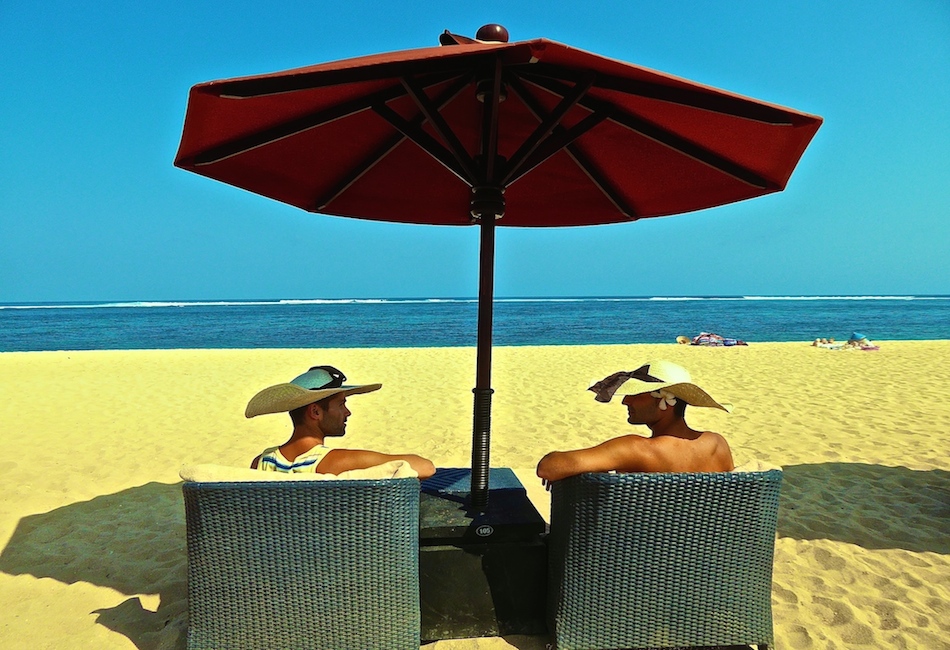 We bluntly ask the hotel if they are comfortable hosting a gay couple and clear all the awkwardness at the outset. If at this stage of the booking process they are happy to host us, then it's a clear sign they're gay friendly – will allow us a double bed etc. We found every villa and hotel we stayed in Bali to be extremely gay friendly, which is not surprising given how used developed they are to tourism.
It looks like Stefan was not proposed by Sébastien while in Bali. Yet, would you say that the island a good place for a proposal or for a gay honeymoon?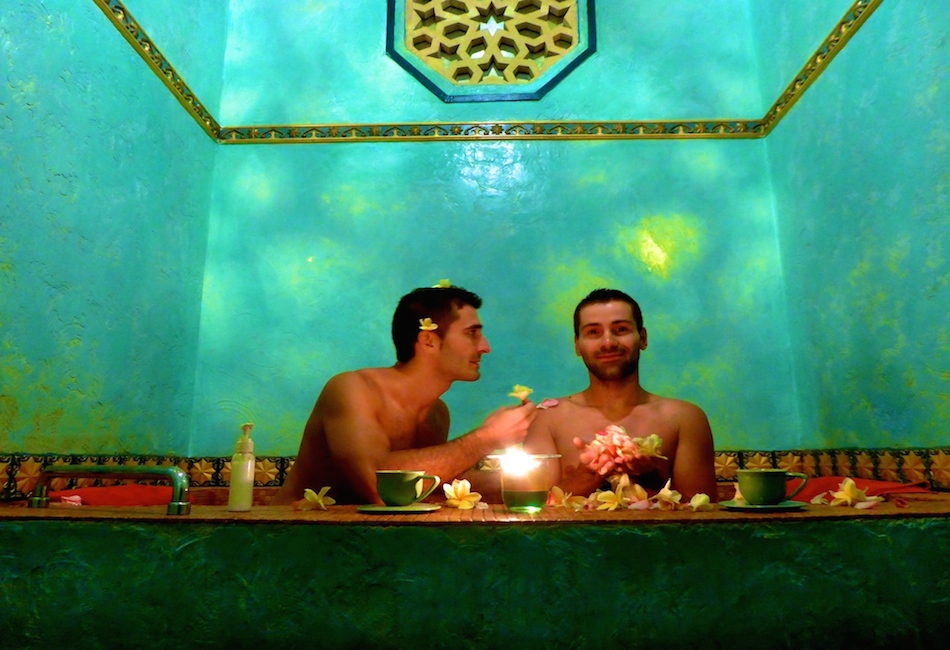 Absolutely. Bali doesn't have the best beaches however, but it's a short flight to nearby Lombok, which has stunning beaches by the Gili islands and excellent scuba diving and snorkelling both there and the Komodo National Park. But if the underwater world is not your thing, Kuta beach is nice to lounge around on and there's plenty of romantic activities and spa experiences on the island for couples to enjoy. Ubud was the cultural highlight for us and definitely a place to enjoy a honeymoon.
How to best catch up with your latest travel advice?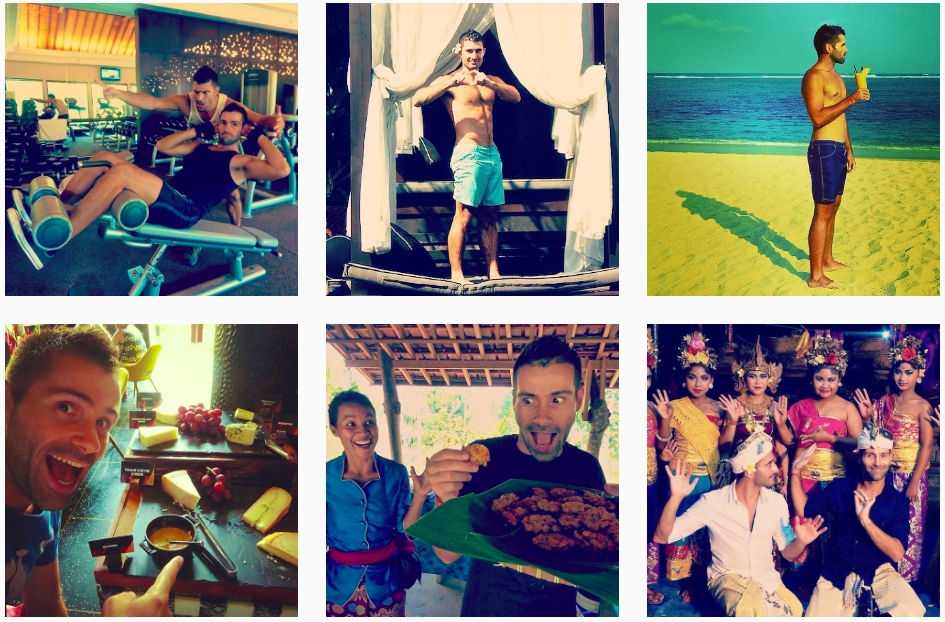 I hope that these tips from Stefan and Sébastien will help you get a better idea of how gay-friendly the island is.
If you are looking for gay-friendly Bali villas or if you just want to have a drink watching the funny drag shows at Bali Joe, there are pockets of gay fun to enjoy on the island.
Bali is a special place in Indonesia and certainly the best place for a gay couple.